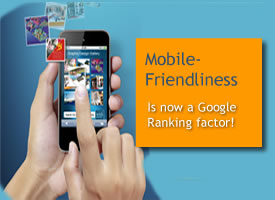 On April 21, 2015 a mobile friendly site will now be a factor with Google rankings. Google is putting the clamps down on user experience and mobile ready websites. Now that mobile internet users surpass desktop users Google has added this is a priority. This helps mobile users find the relevant information no matter how they access a site. There has been a lot of speculation about this but now it is official.
Here is what Google announced.
1. Starting April 21, 2015, mobile-friendliness will be used as a ranking signal.
1. This applies to all website owners.
2. Relevant app content will become more prevalent in search results.
What does this mean for you?
If your website is not mobile-friendly your rankings will drop. BishopWebWorks recommends testing your website to see how Google's Mobile-Friendly. If your site is not mobile friendly we can help rebuild it. If you are ready to develop a mobile-friendly site please contact us.
We look forward to working with you!