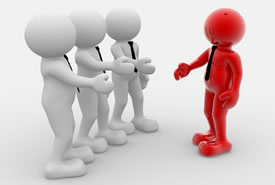 Businesses are into investing a huge sum on getting their websites optimized for the search engines either through organic search or by applying PPC. Even the design is highly imperatively done by hiring well-experienced web designers and developers. But what use is a website that cannot create an impulse in the mind of the customers at least to scroll across when the only thing they do is just close the window and proceed to open the next website present on the search engine.
This is where social media plays an important role by wiring a content with professional theme and the one with an instinct to solve problems. Customers are looking for content that answers their questions, it should be something that can read their minds and present them with an appropriate solution. Churning out content is not a big task, anyone with creativity and interaction gut can possibly draft one. But, the point lies in whether it is compelling to get the customers engaged for a further thought.
Here are a few tips that can help you to involve our target audience into a strong engagement while naturally gaining an increased traffic, a higher ranking over the SERP's and of course improved conversion rates:
Nature of your target audience: Your audience is all that matters, you need to tailor content specifically targeting that particular group at large. Analyze your customer groups- where are they; what are their requirements. Suppose you own a brand that has been doing rounds over Instagram and is trying to encroach them into an active engagement with your brand. Instagram has a history of being more popular among the female audience, as you can see only 20% of the population active over Instagram are male audience which leaves 80% to the female. So, why not think about engaging Facebook users where female and male audience is proportional as it is equally active.
Why not collect the demographic data and check the kind of content that both the audience category prefers and curate one that is pertinent to impress all? Examining the different social networking sites and analysing the kind of content that is acceptable over these sites will help you to generate a content that would work out well, for example: LinkedIn audience prefer content that sounds more professional rather than the social kind which you can find over Twitter and Facebook.
Bid your time and wait for the right moment to attack: Haven't you seen lions, how they attack their prey when they are off guard? Exactly, wait for the right time before posing a launch of your content. Now that you have an idea of the behavior of your audience and what kind of content they prefer you can simply get your content curator to curate a content that satisfies the customer needs and can bring in active engagement from their side.
You can now post, tweet, and share content that is the growing trend over these sites. It has been found that content with images are much viral than simple texts which means Infographics is the trend, so curate script texts and combine these with impressive graphics and wire these.
Trace out the time and days of the week when your customer base is actually active over these social engagement platforms. It has been found that videos posted over Facebook are engrossing more public involvement which includes an enhanced shares, commenting and likes which is what a business is in need of.
Engagement of customers is high over Facebook on Thursdays and Fridays whereas sites like Twitter have a higher range of engagement from Monday to Thursday and LinkedIn has active participation from Tuesdays to Thursdays.
You are one among them: How do you interact with your friends circle? You are always one among them and you actively plot up things and involve in it together. The same rule applies here, be one among your customers. You now know where they are, so post news/innovations/discoveries that is going viral over the social media relevant to your industry. Make use of hashtags on Facebook and Twitter to get easily found when they are searching for you.
Check out the trend that is impressing them the most and follow it. The present trend is posting selfies, if they are doing that, take it as your call and do it.
Make exciting offers: Bribe them, they will be happy. Bribing does not mean that you have to give them money. But, you can offer them discount or gift coupons that will encourage them to engage into active conversation with you.
Now it looks like you have the key to active engagement with your customers. Pick it up and open the doors to the wider horizons that awaits you. Fly high!
At BishopWebWorks we provide social media promotion services. For more details, visit our website at www.bishopwebworks.com.