BishopWebWorks is one of the fastest growing Denver Web Design companies
At BishopWebWorks, our developm ent team is more than happy to serve you and suffice your business needs with an absolute website design package that no other Web Design company in Colorado can promise. All our solutions are perfectly customized to meet the client requirements while taking into account the market trends and tailoring a perfect solution that will take your business to the next level.
Our team works closely with the clients at each phase of the website development cycle to analyse what their needs are while providing them with a platform to voice their opinion for further modifications if they desire. This tactical approach has helped us to grow as one of the most preferred choices of businesses for their web design needs in Denver and Colorado locations.
If you belong to Colorado or Denver areas, you can drop in at our office at any convenient time or we can go for a live chat over skype and it will be our pleasure to make business easy for your trust in partnering with us. Our business services are not only limited to web design services but we also provide SEO services to ensure website visibility over search engines.
Why Choose Bishop WebWorks for Website Design Services in Denver?
Boost in Search Engine Rankings
Boosting search engine rankings seems simple but is far from being one. The process involves optimizing the organic structure of the website to make sure that the search engines can catch the key terms of your website. Only the best web design and SEO techniques can ensure better search engine rankings.
Passionate Designers
Don't settle for low charges but high-quality designs. It's the design that will first attract your users. Whether a big or small business, in today's digital world, it is essential to choose the right design company with passionate designers who can deliver a high-quality yet conversational product.
Appealing First-impression
The first impression is the last, and it's true about the website designs. A quality website design allows you to make a solid first impression on the user. While getting your website designed, you must think as a user yourself. Taking chances with the look of your website is like taking chances with your business.
Convert more Visitors
Building a beautiful website is not enough, but the site should also perform well. It should be able not only attract but also engage and convert those users into potential customers. Relevant content, optimized landing pages coupled with intuitive calls to action can help a lot.
User-friendly Designs
The key is to interact with your users through your website. In most cases, users will not know about your business. Produce the right kind of content to impress visitors but in a simple language. Also, make sure to deliver user- friendly design and better user experience. It plays an essential role in making your website a successful one.
Save Time & Money
Choosing the right design agency to create designs for your business is very important. It will be easier for you to communicate your ideas well. Once you set the goal, it doesn't take much time to dole out designs and start working on development. So, to save your time and money, better invest in searching for a creative agency.
Perfect Website Mockup
A flawless mockup design leads to a perfect final output. Healthy brainstorming, followed by interactive feedback and revision rounds, add value. It helps in managing the design process. It not only assists in tracking the progress of your project but also helps in dolling out the perfect final copy.
Perfect Content Placement
Content is the king for any business. It plays a vital role in building a successful website design that can boost your search engine results. Quality scannable content strategically placed over the website as per the user preferences and user interface complement each other perfectly.
Certified Designers
While building a website, it is imperative to think from a user perspective. Your website must engage with your consumers. So, get a website that is compatible with all desktops and laptops. Also, make sure it is compatible with iPads, smartphones, and tabs. Working with certified designers can help you in keeping all the above things in check.
Stand out from competitors
Communication is what makes you stand out from the crowd. Bishop Webworks team has excellent expertise in doing website design services in the Denver area. It's expert designers, and developers make sure that you have the right communication with your users. They will make you stand out from the crowd.
Our Design Attracts Audience
Apart from web design specialists, they also have experienced SEO experts. Bishop Webworks team applies techniques strategically by targeting the right keywords with the right audiences. They do content marketing, PPC, and website development services in Denver. They use all the tried and tested formulas to increase the visibility of your website.
Powerful Hosting with backup
To create a successful website, one also needs to ensure that it can bear heavy footfall. The website must have real-time backups and security scanning systems. You also need to make sure that your site is always updated, fast, and available for your visitors.
Innovative Approach
Before starting your project, Bishop Webworks team takes time to learn more about your business. The design and development team at Bishop Webworks makes it a point to review competitors' websites to ensure that they cover all the essential aspects of the website.
Goal-Oriented Designs
Goal-oriented website designs channel your visitors in the right direction. It helps in setting goals for the website as well as users. It helps in putting your users on the path that you have carved for them. With the rate of good conversion rate optimization, more visitors will convert into real-time customers.
Get Free Estimates
Fill out the form to get the free design estimate from Bishop Webworks design services. Once you fill the form, Bishop Webworks representative will get in touch with you as soon as possible. You will be surprised to know how much you can get by investing so little on your website.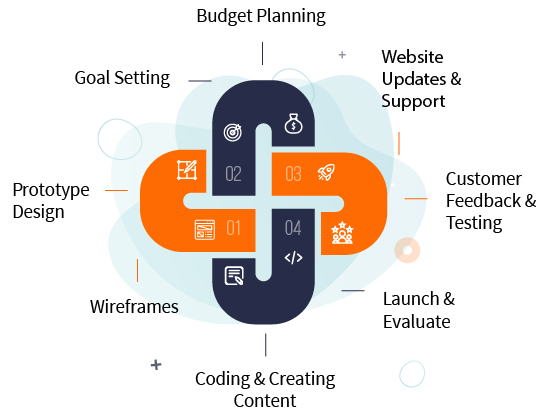 Why is Bishop WebWorks the Best Web Design Company in Denver?
Future-proof Designs
Creating a website is not enough; they need to be made future-ready. The design and layout of the site have to match the current needs. For static sites, one can upgrade the content and design from time to time. But dynamic websites need frequent changes. We can monitor a dynamic website through content management systems.
Competitive Pricing
Our web design services, coupled with digital marketing services, dominate the search engine rankings. Almost all kinds of businesses require both services. Keeping that mind, our team offers the most competitive pricing for the clients to make most of our services.
Dedicated Person
Working with a team of developers where your project passes through many random resources is a challenging task. But in Bishop WebWorks Denver, we allocate a dedicated person for your project. The Dedicated project manager will make things easier for you. Also, they will ensure that your dream website goes live without any hassle.
Secure Website
Getting a website for your business is crucial. Securing and maintaining them is a vital task. One should never compromise on website security. You must make sure that every design should include fundamental safety and privacy protocols like security checks to protect the business and user data.
We add Quality Images/Videos
You cannot make a successful website by merely having a beautiful design and layout. You need to engage the user and make it a worthwhile experience for your user. To make your user's every visit enjoyable, you can incorporate good images, well-written content, videos, animations, interactive quizzes, and contests. The key is to keep the content easily consumable.
Post-launch Support
Once the design and development process of the website is in place, the last thing left is the launch. Many web design & digital marketing companies stop supporting after the product launch. But Bishop webworks won't stop supporting you. We also provide full post-launch support like code improvements and SEO updates.
Latest Tools and Technology
Usage of the right tools and technology is also part of the website development. After gathering the requirements in the initial phase of website development, it is easy to understand what your target audience likes or dislikes. Based on the data, you can opt for suitable tools & technology to provide an optimal design output.
Strong Reputation in Market
Finding the right design and digital marketing agency is an uphill task. Every agency makes tall claims, but it's your job to find a reliable and trustworthy agency that helps you achieve your goals. Bishop WebWorks web design services based out of Denver has a proven reputation. The agency is known for its quality and on-time delivery.
Good Customer Service
Don't just fall prey to bigger systems and round the clock call centers. The chances are that they might have outsourced those support centers. You end up talking to a person who can only take notes but can't resolve your issues. It is better to work with a small team of 10-15 members who dedicatedly work on your project.
Best User Experience
Creating a website for today is the key to success. One should always go for a responsive website that's compatible with all the devices. A responsive design ensures that your user fully understands about your firm. It also positions your company as an innovative brand that makes its users' every visit on the website worthwhile.
Strong Website Testing
The website development process, if followed correctly, the output will always be effective. We check a responsive website on different platforms such as mobile, tablets, and desktop. We also check the site on different browsers like Chrome, Internet Explorer, and Firefox. This process ensures that your website works well on different platforms.
Seamless Launch
Bishop WebWorks website design team will make sure to launch your website without any hassle. To ensure that you have a smooth start, the agency performs a series of rigorous quality checks. It will make sure that your website is error-free, and it functions well. Post-tests, a team of experts will work with the client to launch the site.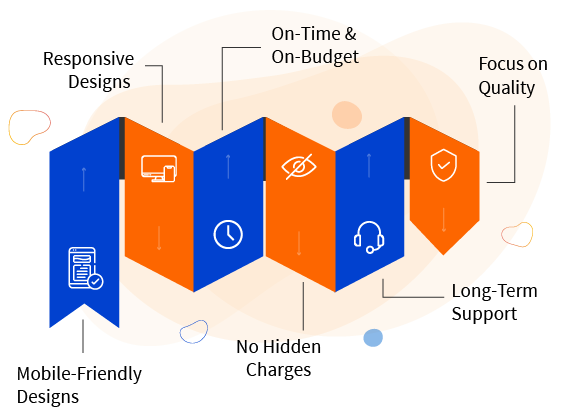 Types Of Web Design Services We Offer in Denver
Responsive Website Design
A responsive website is a site that loads well on different platforms without any issues. It easily fits on different screen sizes like desktop, tab, smartphone, and notebook. Responsive websites even work on different browsers and operating systems. If you want to reach a broader audience, then responsive websites are the best.
WordPress Website Design
WordPress websites developed by Bishops WebWorks focus on design, security, user experience, and performance. The agency works with different businesses, sizes, and budgets. All the WordPress websites are responsive, SEO-ready, secure, and come with trusted WordPress plugins.
eCommerce Web Development
Expand your business by taking your business online. You can easily set up an online store to display your products and services. Also, You can smoothly take your business online with Bishops WebWorks based out of Denver. The agency offers excellent packages at competitive prices.
CMS Web Development
Once we develop a website, it requires frequent changes in terms of content, images, design, and color. Developing a content management system gives you complete control over your website. A CMS gives you the freedom to makes changes in your site without disturbing its soul.
Static Website Designing
If you want to promote your business on the web, it is imperative to build a robust virtual presence. A static website is not updated frequently. But Bishop WebWorks ensures that the call to action messages placed on the website is compelling, and the content makes an impact.
Dynamic Website Designing
A dynamic website is one that is updated regularly. While designing a dynamic website, it is crucial to keep the expectations of the users in mind. The other elements to keep in mind are sizes, shapes, placement, typography, and colors. The idea is to provide users with a great experience on every visit.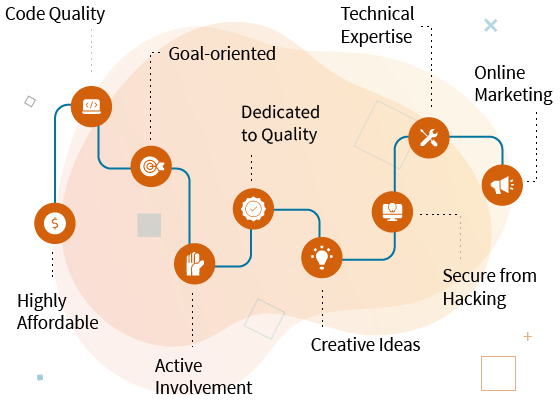 We are a full-service Web Design Company in Denver
Web Design
Build your website with our strategic web design company. We design engaging, fast, SEO Friendly and Conversion Optimized websites that sell more. All our sites will be fully responsive on all tablets, phones, and iPad. We are experts in creating mobile-friendly websites.
Website Development
Bishop webworks have a strong web development team which has Multi-Platform Expertise, including Front-End And Back-End Development. We have a team of Certified Developers, and we have delivered more than 350+ projects all over Denver. The web development process includes content development, server-side scripting, network security configuration, and more.
Graphics Design
Graphic designs are the visual concepts that graphic designers create using software to captivate users. They develop the overall layout and production design for various things like brochures, presentations, websites, and applications. Bishop WebWorks design services based on Denver has one of the best graphic designers, who develop some conversational designs.
Logo Design
A logo is a graphic representation of a company name. It could be a trademark or abbreviation. The logo is a simple visual mark to identify a company or service. We design the logo carefully by keeping the company's soul in mind as a logo can make or break a company's image.
UI/UX Design
UI/UX Design is all about enhancing user experience. It is like make users' every visit to the website or application worthwhile. UI/UX design is the process of improving the accessibility and usability provided in the interaction with a product. Better UI means engaged users and better ROI.
Mobile Responsive Design
Responsive designs are the ones that have flexible layouts and can fit into any screen size. Responsive designs are compatible with all the platforms like desktop, mobile, and tablets. You can also open it in different browsers like Chrome, Internet Explorer, Firefox, and in multiple operating systems like android and iOS.
Cloud Solutions
A cloud-based solution refers to on-demand services like computer networks, storage applications, or resources accessed via the internet. You can access it through another provider's shared cloud computing infrastructure. We have an AWS and Google certified cloud deployment specialist in place. Cloud storage gives you the freedom to work with teams located in different cities, states, or countries.
Digital Marketing
Digital marketing will help you to reach the right customers and drive more sales to your business. You can market both products or services using Internet marketing. Digital marketing involves advertising on websites, mobile phones, and other display advertising platforms. In today's digital world, it is essential to have a strong virtual presence, and digital marketing exactly does that.
Mobile App Development
Creating Great apps is not easy. But with a proven team and successful portfolio, it is possible. A successful mobile app is the one that has the best user experience. Bishop webworks deliver High Quality, Scalable, and Secure Mobile App Development Services within your budget. Get a Free App Consultation now!
Social Media Marketing
The promotion of products or services on social media platforms is increasing at a rapid rate. Social media marketing helps companies spread awareness about their products and services quickly and organically. It also can help in influencing potential customers, future employees, digital influencers, and media.
Content Management System
A content management system is an application that allows you to manage web content. It enables you to create, edit, and publish the changes in design, textual content, images, and videos. We are experts in developing and working on multiple CMS platforms, including WordPress, Drupal, and Magento. It will be highly useful for dynamic websites.
Get in touch with our team to get a free consultation with our experts.