You started your business because you are good at something that can be sold to others and give you money in return. It can be selling a physical product or giving consulting services.
But imagine that to run your business, you have to shift your focus from your core competence to something else.
If you have tried to build and maintain your business website, you probably know what we are talking about – website designing.
No matter the size, your business must have a responsive website in today's world. But creating and maintaining a website can be a little bothersome.
This is why most businesses outsource their website design. Some even get it done in-house. But that again becomes troublesome as you would have to hire a person for the job. That means – a lot more work and a higher cost of hiring.
Here are some other benefits that show why it is better to outsource your web design projects:
1.It Acts One-Stop-Shop For Web Designing
Outsource website designing if you do not want to run to umpteen places. Depending on the needs of your business, you might need various services like appearance, layout, logo, and even the website's content.
When you outsource web designing, you get all the services just in one place. It's almost like a one-stop shop for your website.
On the other hand, if you try getting the same job done in-house, you might have to hire at least 3-5 employees.
So, why bother with all the work when you can get it done in one place?
2.It Does Not Demand Your Attention
Narrow down your focus on one thing and make your business thrive. You might be a jack-of-all-trades, but becoming master-of-one will get you ahead of your competition.
Designing your website in-house will require shifting your focus from the main business to small details like color palettes, layout, and whatnot. Surely, you do not want to make your profits suffer because of this.
Outsourcing website designing requires you to give inputs just once or twice, and then your job is almost done. It will not demand your attention, so you can focus on your core competence.
3.It Offers You The Latest Tech & Tools
Great business owners hire people who are more talented than themselves. They acknowledge others' expertise and benefit from it.
In this case, the expertise is of the latest tech and tools of website designing.
Professional website designers keep themselves updated with the latest tech of the trade. If you hire professionals, they will handle niche expertise such as UX design, documenting, testing, deploying the website, etc.
To sum it up, if you want the latest tech and tools to work for your website, give professionals the job.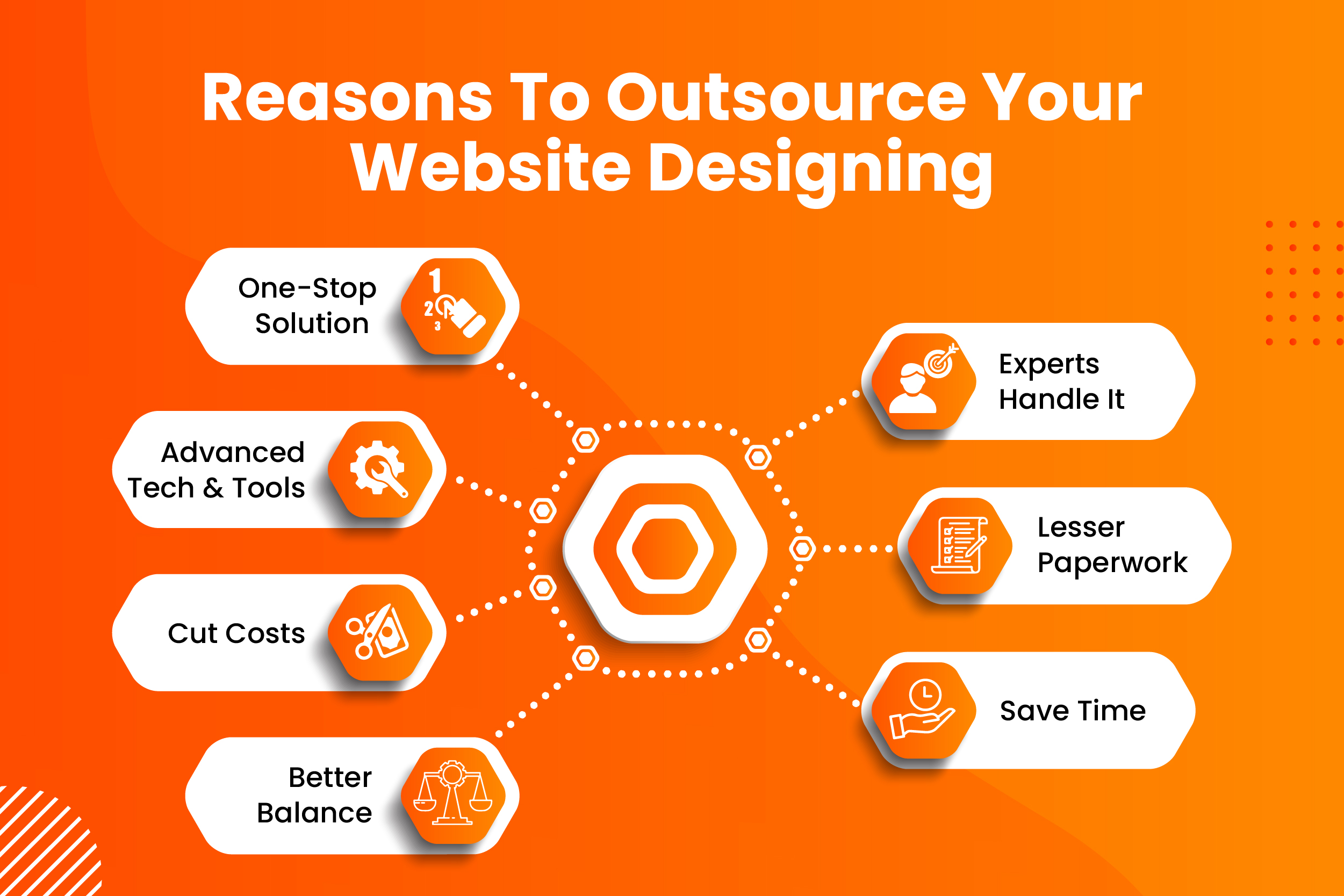 4.It Requires Lesser Paperwork
Outsource website designing and save yourself from the drudge of paperwork.
You ask how?
When you outsource website designing instead of getting it done in-house, you just have to sign a contract and pay the money when the job is done.
Now, compare it with in-house website design. You will have to hire (or possibly, fire) a number of employees and keep a check on software subscription bills.
Lesser paper is another way of saying that you can focus on your core competence, and website designers will care for the rest.
5.It Saves You Huge Bucks
If you look at the cost of in-house website designing, you will automatically know what is better for your business. You have to pay for your employees' roof, office snacks, employee health expenses, and whatnot.
On the other hand, if you outsource web designing, you just have to pay for the main job, and the rest of the money will be saved. The saying goes, "a penny saved is a penny earned."
6.It Saves You Time
Outsource website development and designing and save yourself a load of time. Not just hours and days; you might end up saving months for your businesses.
The business model of professional website developers works best when they finish designing the website quickly. The quicker they will finish the job, the more clients they can get.
In-house designers do not work under any time obligation because their only job is to work for your business. They simply do not have any incentive to complete the website design early.
7.It Liberates You From Geographical Boundaries
If you restrict yourself from working with people in your geographical area, how can you get the best from the internet?
So, think in global terms and hire the best website designers across the globe.
Since you are spending the dollars, the website designers will work according to your time zone and your needs.
Summing It Up
There are many upsides of outsourcing website designing, while the downsides are virtually none. Trust the professionals and save yourself from a lot of hassle.